The Cafeteria is a place in Baldi's Basics in Education and Learning, where multiple items can be found, like BSODA and the Energy Flavored Zesty Bar and some lunches on the tables (but you can't touch them). Found here is a BSODA Machine, which dispenses BSODA.
Appearance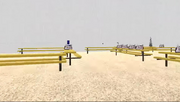 The Cafeteria is a large rectangular room that has tables with floating trays of food. The room has grey walls and a (possibly) tiled floor. The ceiling appears to be a black void. While most of the food is just for show, some items are able to be obtained by
The Protagonist
such as the
Energy Flavored Zesty Bar
and
BSODA
.
Trivia
This is the largest room in Here School.
This is the only room that has no visible ceiling.

The ceiling is just a black void.

The cafeteria is still part of the hallway, so if the Principal of the Thing catches the player running in the cafeteria, they will still receive detention.
The cafeteria is the only room to have a unique wall texture.
There was going to be an area outside the school next to the cafeteria that would be accessed by using a yellow door, but it was scrapped due to game limitations and replaced by an exit.
Gallery