Death Screens appear as some form of game over screens that occur in Baldi's Basics in Education and Learning that happen when Baldi catches the player. There are 7 death screens.
Mechanics
A random image will display when Baldi catches the protagonist before sending back to the menu screen; a blue fidget spinner, glasses case, pink scissors, telescope, and a music box.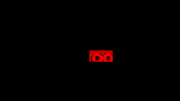 On a rare occasion, a small, orange rectangle with the number "99" half-cropped-away will appear after Baldi catches the player. After a few seconds, a jumpscare will suddenly occur with the half cropped away 99 box (now in a reddish hue) appearing close to the screen while making loud distorted noises, which in the game files is called 'ohno.wav' and then crashing the game after a few seconds.
All of the objects are all higher quality than the rest of the game itself except the half cropped 99 box.
Sounds
This plays when the 99 screen appears but red and big. (WARNING: Loud)
Trivia
Gallery