The Pause Menu is a menu that appears when the escape key is pressed (unless changed), allowing The Protagonist to pause the game until they wish to continue it.
Appearance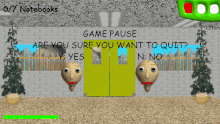 The pause menu appears with black text in the Comic Sans font. There are two options, yes or no. The Yes option has an animated Baldi face nodding his head while smiling, and The No option has an animation of him shaking his head while him frowning. Pressing Y quits the game and brings you to the main menu while pressing N unpauses it.
Before V1.3, there was no animation of Baldi shaking/nodding his head, and instead, it was just plain text.

The pause menu just shows the text with a punctuation error and a misspelled word ("pasued" instead of "paused" and "it"s" instead of "it's"). Whether this is intentional or not is unknown.

Quotes
Baldi's Basics in Education and Learning
Before V1.3
GAME PAUSE
PRESS ESCAPE TO RETURN TO GAME
PRESS Q TO EXIT TO THE MAIN MENU
After V1.3
GAME PAUSE
ARE YOU SURE YOU WANT TO QUIT?
Y: YES
N: NO
Field Trip
IT''S PASUED
Gallery